ACTIV8 is a community based wellness center in Tallahassee, Florida that focuses on eight dimensions of wellness. The goal of this design is to transform the city of Tallahassee into an overall healthier community. 
Tallahassee has been proven to have poor mental and overall health with a very limited number of spaces to change this issue. This project will take an unused space and transform it into a place that is beneficial to the entire community through 8 stages of wellness. The aspects of wellness include physical, emotional, intellectual, financial, social, occupational, spiritual, and environmental wellness. The goal of the designer is to create the first multidimensional center for healthy living for people of all ages, and becomes a model for preventative healthcare centers all around the country. 
The concept for this project will be oxyhemoglobin - a blood protein containing oxygen. These proteins make up the blood in our veins. This oxygenated blood is healthy, full of oxygen and various nutrients, and under our human skin, appears blue! It is the blood that provides energy to the body and that allows the body to function. Just as the oxyhemoglobin does, this facility will enhance the human body's function, increase a person's energy by benefiting their mental and physical health, and through design, encourage a healthy lifestyle. The designer will work to incorporate this idea of healthy, oxygenated blood into the whole design. The building will create a space that balances all dimensions of wellness through effective space planning. As veins do in the body, the spaces will intersect and guide users through the space with the goal to provide nourishment to the whole body. From a literal stance, the veins abstract and intersecting pattern will be reflected in the space planning, through the concept of the design (that the whole body will be enhanced), and the materials used will reflect the dynamic, abstract appearance of the oxygenated blood. The concept will be seen through the various experiences, spaces, and amenities offered at wellness center.
Renderings  were created via Revit, Lumion, Photoshop, and Lightroom. 
1. Reception 2. Racquetball 3. Lockers 4. Physical Therapy Gym 5. Stretching Area 6. Cardio 7. Lower Body Space 8. Upper Body Space 9. Free Weights 10. General Use Room 11. Basketball Court 12. Pool 13. Men Locker Room 14. Women Locker Room             15. Sauna 16. Steam Room 17. Cardio 18. General Use One 19. Pilates Room 20. Yoga Room 21. Kids Room 22. Spin Class Room
Physical Wellness: Clinic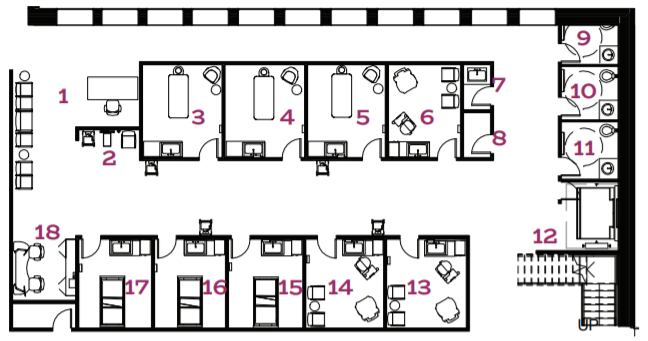 1. Reception And Waiting 2. Check In 3-5. Massage Therapy 6, 13-14. General Physical Or Nutritional 7. Soiled Room Storage 8. Storage 9-11. Ada Restrooms 12. Stairs And Elevator 15-17. Physical Therapy 18. Nurses Station
Spiritual Wellness: Meditation
Private room meant for meditation and spiritual connection. 
Intellectual And Financial Wellness: Technology Center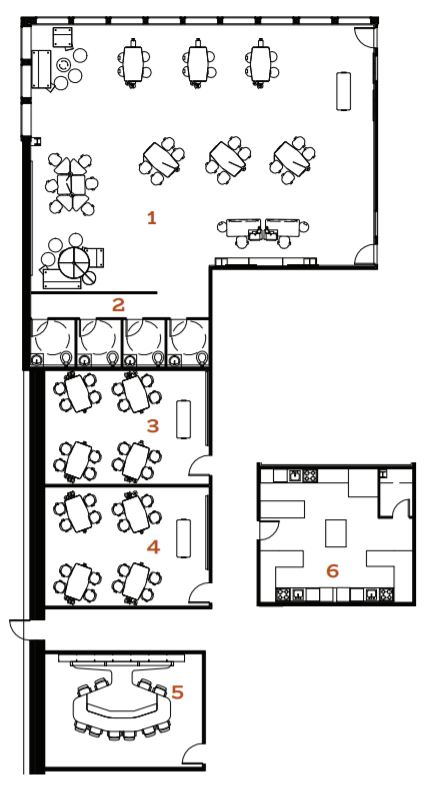 1. Technology Center 2. Ada Restrooms 3. Classrooms 4. Conference Room 5. Kitchenette Classroom

Social And Environmental Wellness: Lobby and Lounge
1. Reception 2. Lounge Areas 3. Entrance To Playground 4. Smoothie Bar 5. Entrance To Gym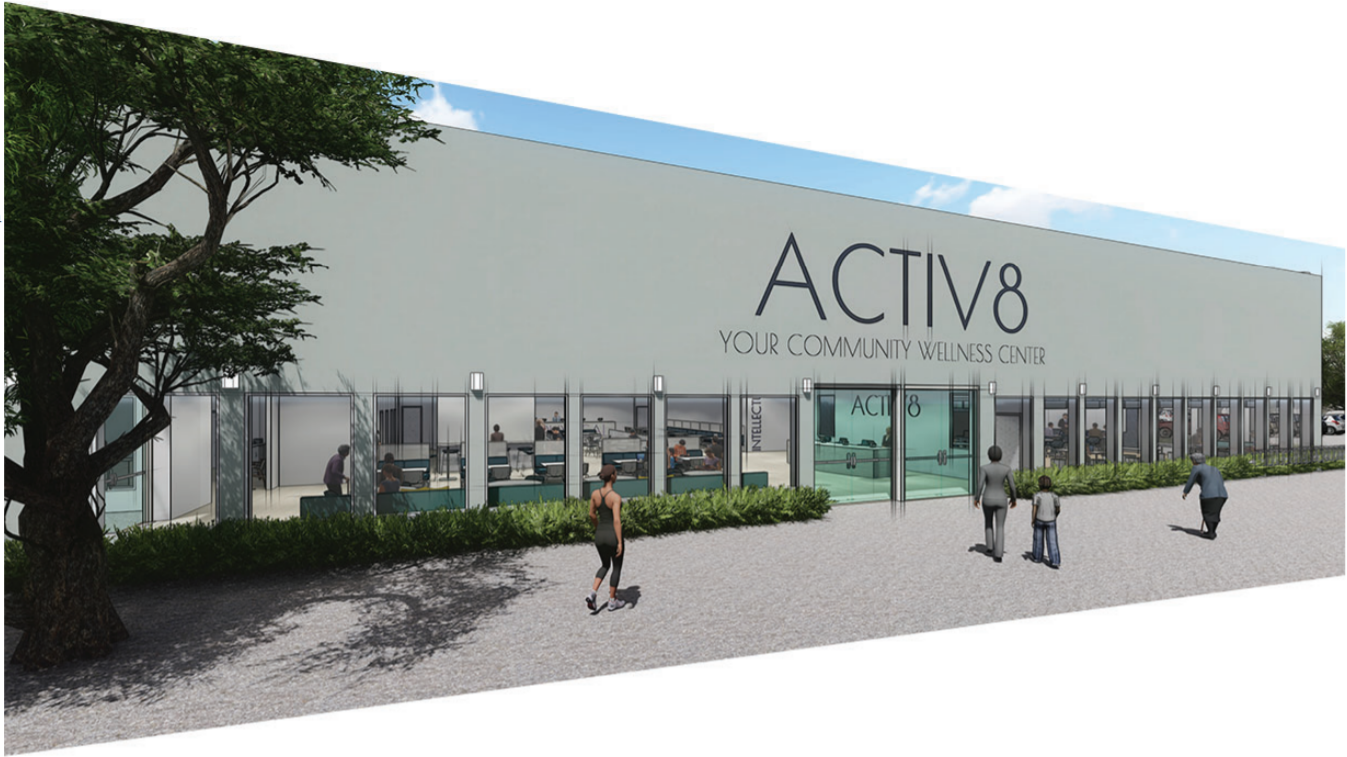 The wellness center is not only meant to create a healthy community but will also provide the community with jobs. ACTIV8 also offers internships and shadowing opportunities to students at the local colleges or high schools.

Gym: Including Shift Rotation
          8: Front desk
          2: Inside desk
          8: Private personal trainers
          12: General wellness trainers
          12: Specialty group class teachers
          4: Pool lifeguards
Technology Center: Including Shift Rotation
          4: Technology center employees
Lounge: Including Shift Rotation
          8: Receptionists
          6: Smoothie bar
Clinic:
           3: Nurses
           3: Physical therapists
           1: Nutritionist
           2: General doctors
           3: Massage therapists
           2: Receptionist (shift rotation)
Facility
            5: General Staff members
            5: Managers
            2: General Managers 
            1: Human Resource
            10: Janitors
Total jobs created by Activ8: 101