Hotel Amalgamation is a luxury boutique hotel in Palmer Station, located on Anvers Island in Antarctica. Presented for the Senior Capstone Hospitality project, it features a five-star restaurant and indoor/outdoor bar, indoor spa, and 6 stories of guestrooms for those seeking warmth and luxury in the heart of Antarctica. The goal of the design was to create and provide an unforgettable experience unlike any other boutique hotel. 
Palmer Station is a research facility dedicated to studying and protecting the natural habitat of Antarctica. The designer understands the impacts of placing a eight story hotel in a relatively untouched habitat and will work to preserve and protect the environment. Therefore, the design for the future hotel in Antarctica is driven by the concept of protection. This concept will be reinforced in the design elements, layout, and features of the space. It will result in minimal open spaces, comfortable and warm-toned material selections and feature eco-friendly design solutions. The design decisions will make the users feel safe in an unnatural environment through a welcoming atmosphere, culturally diverse features, and a home far away from home. 
Renderings were created by layering a hand-water colored painting, with an image rendered in Lumion, along with Photoshop and Lightroom edits.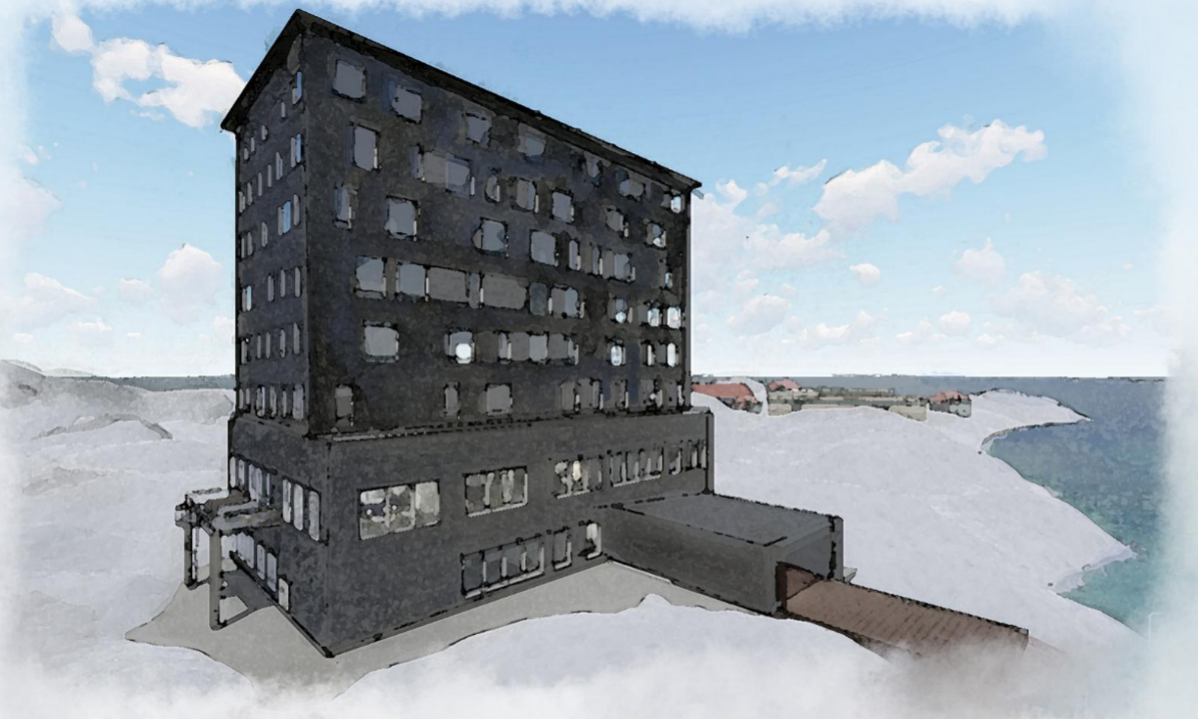 Level 1 features the lobby with a variety of seating arrangements, reception desk, grand staircase, conference room, management offices, and employee facilities. On the left side of the building is a spa with a separate lobby, four treatment rooms, fitness room, sauna, and locker rooms.

Level 2 hosts Glacierside Restaurant, Bar & Lounge along with an indoor ice bar with a balcony for those looking to truly be glacier-side. 

Levels three through eight each host 4 king suites, 3 ADA guest rooms, and 5 typical bedrooms. 
1. Desk 2. Mini-kitchen 3. Washer and Dryer unit 4. Living space 5. Bedroom 6. Walk-in closet 7. Bathroom 8. Private toilet and bidet 9. Open shower and tub
Schematic Design Presentation
Students were asked to present their progress after working for 9 weeks. Below are the renderings presented. 
Images were rendered by hand with marker, along with Photoshop and Lightroom edits.